February 14, 2014
UPDATE: MyNickKnaxs Recalls Nine Weight Loss Products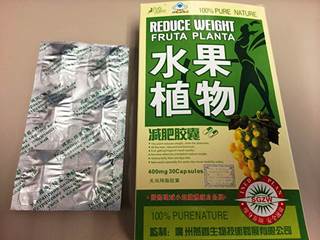 [UPDATE 2/14/14: MyNickKnaxs, LLC., expanded its recall to include all lots of Magic Slim, Fruta Bio, SlimEasy, Super Fat Burning Bomb, Slim Xtreme, Meizi Evolution, Meizitang Strong Version Botanical Slimming, Jianfeijindan Activity Girl, and Japan Hokkaido Cangye Phamacy Co., Ltd Japanese Chinese Formula pill for weight loss. All of these products were found to contain phenolphthalein and/or sibutramine, both undeclared active ingredients. Sibutramine, a Schedule IV drug, was pulled from U.S. markets in October 2010 for safety reasons.]
MyNicKnaxs, LLC., is recalling all lots of Reduce Weight Fruta Planta after it was found to contain 10.2mg of phenolphthalein, an undeclared pharmaceutical ingredient.
Phenolphthalein was an active ingredient in over-the-counter (OTC) laxatives that is currently not approved for marketing due to concerns of carcinogenicity. The FDA reclassified the ingredient as "not generally recognized as safe and effective" in 1999. Patients that consume phenolphthalein could experience potentially serious gastrointestinal disturbances, irregular heartbeat, and cancer.
RELATED: Metabolic Disorders Resource Center
Consumer are to immediately discontinue use of the weight loss supplement Reduce Weight Fruta Planta .
For more information call (386) 337-8142 or visit the FDA Safety Alert Page.