November 20, 2013
FDA Warns Against Slim Max Use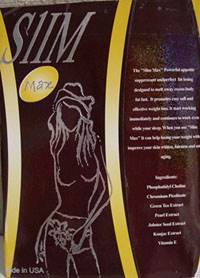 The FDA is warning consumer not to purchase or use Slim Max after it was found to contain sibutramine and phenolphthalein. Slim Max is a weight loss supplement that is sold on various websites and in some retail stores.
RELATED: Metabolic Disorders Resource Center
Sibutramine is a controlled substance that was withdrawn from the market in 2010 for safety reasons.
Sibutramine is known to increase blood pressure and/or pulse, and may pose a significant risk for patients with a history of coronary artery disease, congestive heart failure, arrhythmias, or stroke.
Phenolphthalein was an ingredient in some OTC laxative products until the FDA reclassified the ingredient as "not generally recognized as safe and effective" in 1999.
Consumers are to discontinue use of Slim Max immeidately and throw it away.
For more information call (855) 543-3784 or visit the FDA Safety Alert page.