March 22, 2016
FDA: Major Labeling Changes for Opioid Pain Meds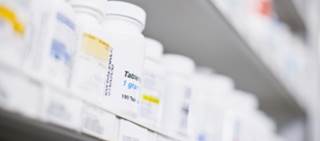 The Food and Drug Administration (FDA) announced it is requiring class-wide safety labeling changes for all immediate-release (IR) opioid pain medicines. The changes include a new boxed warning about the serious risks of misuse, abuse, addiction, overdose, and death. This announcement comes on the heels of a recently published guideline from the Centers for Disease Control and Prevention (CDC) which offers recommendations to aid in prescribing opioid analgesics for patients with chronic pain.
Opioid painkillers, used to treat moderate to severe pain that may not respond well to other pain medicines, are divided into two categories: IR drugs, usually intended for dosing every 4–6 hours; and extended-release/long-acting (ER/LA) products, usually intended for dosing once- or twice-daily. Some opioids, such as methadone and buprenorphine, are also used as medication-assisted treatment (MAT) to treat opioid addiction in combination with behavioral therapy and counseling.
The labeling update clarifies that IR opioids should be reserved for pain severe enough to require opioid treatment and for which alternative treatment options (eg, non-opioid analgesics or an opioid combination product) are inadequate or not tolerated. Also, the dosing information offers clearer steps on patient monitoring and drug administration, including initial dose, dose changes during therapy, and the avoidance of abruptly stopping treatment in a physically dependent patient. Similar labeling changes were initiated back in 2013 for ER/LA opioid analgesics; today's announcement brings attention to the known risks associated with IR products.
The FDA is also requiring a precaution update that chronic maternal use of opioids during pregnancy can lead to neonatal opioid withdrawal syndrome (NOWS), which may be life-threatening.
In its continued efforts to reassess the approach to opioid medicines, the FDA also issued a warning about major safety risks associated with all opioid pain medicines (both IR and ER/LA products). These risks include potentially harmful interactions with other drugs, problems with adrenal glands, and reduced levels of sex hormone.
The FDA is requiring modifications to all opioid drug labels to reflect the aforementioned safety risks. The Agency has investigated the following safety issues and has included recommendations for healthcare professionals:
Serotonin Syndrome

A total of 43 cases of serotonin syndrome in which opioids were used concomitantly with other serotonergic drugs were identified in a search of the FDA Adverse Event Reporting System (FAERS) database from January 1, 1969 to June 12, 2013. This search did not include meperidine, tramadol, and tapentadol, which already carried the risk of serotonin syndrome at the time.
Fentanyl (n=28), oxycodone (n=7), and methadone (n=5) were the most commonly reported opioids linked to serotonin syndrome; other opioids included hydromorphone, morphine, alfentanil/remifentail/sufentanil, hydrocodone, naltrexone, and pentazocine. Five cases cited that serotonin syndrome occurred when ≥2 opioids were used concurrently: fentanyl with oxycodone (n=4), with morphine (n=1), with hydromorphone (n=1), and with hydrocodone (n=1).
Healthcare professionals are recommended to carefully observe a patient especially during treatment initiation and dose increases if concomitant use of an opioid and a serotonergic drug is needed. Symptoms may include agitation, hallucinations, coma, tachycardia, labile blood pressure, hyperthermia, hyperreflexia, incoordination, or rigidity. If serotonin syndrome is suspected, opioid treatment and/or the serotonergic drug should be discontinued.
Adrenal Insufficiency

A total of 37 cases of adrenal insufficiency associated with opioid use were identified in a search of the FAERS database from January 1, 1969 to February 5, 2014. Of the total cases, 27 reported opioid monotherapy, and 10 reported use of more than one opioid at the same time.
Fentanyl (n=10) and oxycodone (n=10) were the most commonly reported opioids linked to adrenal insufficiency, followed by buprenorphine or buprenorphine/naloxone (n=7), hydromorphone (n=6), and tramadol (n=4). The onset of adrenal insufficiency after initiating opioid therapy ranged from within one day to over one year though most cases reported adrenal insufficiency after at least one month of use.
Twenty-one cases cited patients receiving corticosteroid treatment and 16 cases cited discontinuing or reducing the opioid dose. Some patients found symptomatic relief when they were switched to a different opioid.
Healthcare professionals are recommended to confirm with diagnostic testing if adrenal insufficiency is suspected. Signs and symptoms may include nausea, vomiting, anorexia, fatigue, weakness, and low blood pressure. Patients should be treated with replacement doses of corticosteroids and tapered off the opioid to allow for adrenal function recovery. In addition, if the opioid can be stopped, healthcare professionals should assess the adrenal function to see if corticosteroid treatment can also be discontinued.
At this time, no particular opioid has been associated with being more likely to cause adrenal insufficiency. Other opioids can be tried as some cases cited no recurrence of adrenal insufficiency with different opioids.
Androgen Deficiency

A review of medical literature evaluating the link between opioids and androgen deficiency showed decreased gonadal hormones in men and women taking long-term opioids. Most of the studies, however, did not include baseline hormone levels and did not adequately compare opioid-treatment arms vs. control regarding medical, physical, lifestyle, and psychological stressors that may affect gonadal hormone levels.
The FDA stated it was not clear whether low levels of gonadal hormone and its signs and symptoms in men and women could be associated with chronic opioid use or other factors (eg, underlying condition, physical/mental/life stressors, weight changes, concomitant drug/supplement use). Based on the evidence, a causal relationship between opioids and clinical hypogonadism cannot be established due to the lack of studies that are adequately controlled for the various factors that may affect gonadal hormone levels.
Healthcare professionals should evaluate patient laboratory values if they present with signs or symptoms of androgen deficiency. This may manifest as low libido, impotence, erectile dysfunction, amenorrhea, or infertility.
The full list of affected opioids and serotonergic drugs can be found here. Healthcare professionals are urged to report adverse effects involving opioids or other medicines to the FDA MedWatch program.
"Opioid addiction and overdose have reached epidemic levels over the past decade, and the FDA remains steadfast in our commitment to do our part to help reverse the devastating impact of the misuse and abuse of prescription opioids," said Robert Califf, M.D., FDA Commissioner. "Today's actions are one of the largest undertakings for informing prescribers of risks across opioid products, and one of many steps the FDA intends to take this year as part of our comprehensive action plan to reverse this epidemic."
The FDA is also currently reviewing data regarding the potentially serious outcomes from concomitant benzodiazepine and opioid use. Once completed, the agency will alert prescribers of the risks involved with these medications.
For more information call (888) 463-6332 or visit FDA.gov.