September 03, 2015
First Biosimilar Drug Launched in the U.S.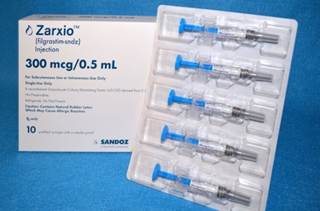 Sandoz announced that Zarxio (filgrastim-sndz), the first biosimilar product to be approved by the Food and Drug Administration (FDA), is now available.
Zarxio is biosimilar to Neupogen (filgrastim; Amgen) and shares five indications. A biosimilar product can only be approved if it has the same mechanism(s) of action, route(s) of administration, dosage form(s), and strength(s) as the reference product, and only for the indication(s) that has been approved for the reference product.
Zarxio is a leukocyte growth factor indicated to: decrease the incidence of infection' as manifested by febrile neutropenia' in patients with nonmyeloid malignancies receiving myelosuppressive anti­cancer drugs associated with a significant incidence of severe neutropenia with fever; reduce the time to neutrophil recovery and the duration of fever, following induction or consolidation chemotherapy treatment of patients with acute myeloid leukemia (AML); reduce the duration of neutropenia and neutropenia-related clinical sequelae (eg, febrile neutropenia), in patients with nonmyeloid malignancies undergoing myeloablative chemotherapy followed by bone marrow transplantation; mobilize autologous hematopoietic progenitor cells into the peripheral blood for collection by leukapheresis; and to reduce the incidence and duration of sequelae of severe neutropenia (eg'fever' infections' oropharyngeal ulcers) in symptomatic patients with congenital neutropenia' cyclic neutropenia' or idiopathic neutropenia.
Zarxio acts on hematopoietic cells by binding to specific cell receptors and stimulating proliferation, differentiation commitment, and some end-cell functional activation. Growth colony stimulating factors regulate the production of neutrophils within the bone marrow and affects neutrophil progenitor proliferation' differentiation, and selected end-cell functions (including enhanced phagocytic ability' priming of the cellular metabolism associated with respiratory burst' antibody-dependent killing, and the increased expression of some cell surface antigens).
Along with the launch of Zarxio, Sandoz is also offering Sandoz One Source, a patient service center that provides patients with necessary information and resources.
Zarxio is available as 300mcg/0.5mL and 480mcg/0.8mL strength injections in 1- and 10-count single-dose prefilled syringes. Zarxio may be administered as a subcutaneous or intravenous infusion.
For more information call (844) 726-3691or visit Zarxio.com.