March 26, 2015
Why a Clean House May Not Lower Asthma, Allergy Risk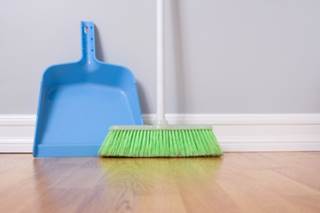 Despite the widely accepted assumption that the rise in allergic disorders may be due to improved hygiene, a new study has found no connection between development of allergies and asthma and personal hygiene or home cleanliness. This research appears in the March issues of the American Journal of Respiratory and Critical Care Medicine.
This assumption, coined the "hygiene hypothesis," suggests that a lack of infections due to improved hygiene in affluent populations may predispose populations to allergies and asthma; "excessive cleanliness" has also been proposed as an impetus for reduced microbial stimulation necessary for immune system development and functioning. While research has explored the relationship between microbial compounds in the home and cleaning habits to reduce dust on childhood asthma, wheeze, and atopic sensitization, no previous studies have found evidence that personal hygiene and domestic cleanliness are associated with allergic disorders and asthma.
Data from the Perinatale Asthma Umwelt Langzeit Allergie Studie (PAULA) study of 553 families was reviewed to study the effect of lifestyle and environmental factors on the development of allergic disorders and asthma. The families were recruited between October 1999 and December 2001, with the children followed on a yearly basis until age 5 and atopic sensitization measured by skin prick test positivity. Dust samples from the home were also collected. A five-year follow-up was then conducted when the children reached ages 8–11 with a telephone interview on cleaning habits and frequencies in the home, use of detergents, personal cleanliness of the study child, and a confirmed diagnosis of asthma, obstructive bronchitis, atopic dermatitis, hay fever, or rhinitis in the absence of a cold after the third birthday.
Personal cleanliness was found to be inversely related to bacterial compounds on floors and mattresses, but home cleanliness did not reduce microbial markers (only dust amount). Muramic acid exposure was associated with a lower rate of school-age asthma, and mattress endotoxin in the first year of life was inversely linked to atopic sensitization and asthma at school age. However, the development of allergies was not related to home and personal cleanliness despite the associations of dust with cleanliness and allergic health conditions. Bacterial exposure in house dust was a factor in the development of childhood allergic disorders and asthma, but neither personal nor home cleanliness was associated with an increased risk for these disorders.
The authors state that microbial components in house dust that are not affected by personal hygiene may play a role in the risk of allergic disorders and asthma in children. Future studies are needed with larger microbial exposure analyses of distinct species.
For more information visit ATSJournal.org.