February 17, 2009
Uloric approved for hyperuricemia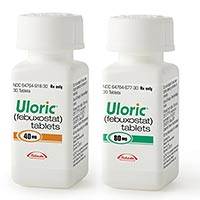 The FDA has approved Uloric (febuxostat, from Takeda) a once-daily tablet for the chronic management of hyperuricemia in patients with gout. This approval is based on a phase 3 clinical trial demonstrating that Uloric 80mg was superior to Uloric 40mg and allopurinol 300/200mg (67%, 45%, and 42%, respectively) at achieving the primary end point of a serum uric acid level <6.0 mg/L at the final visit.
Uloric will be available in 40mg and 80mg dosage strengths.
For more information call (877) 825-3327 or visit www.uloric.com.