June 22, 2017
Acne Drug May Negatively Impact Tattoo Healing
This article originally appeared
here.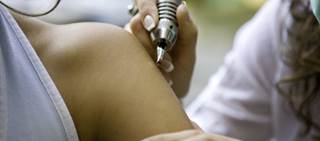 HealthDay News — Isotretinoin may impair wound healing after tattooing, according to a case report published online June 16 in the International Journal of Dermatology.
Nicolas Kluger, MD, PhD, from the University of Helsinki, and Christelle Comte, MD, from private practice in Paris, present the case of a 19-year-old woman who underwent tattooing while taking 20mg isotretinoin for acne; she did not consult with her dermatologist before tattooing and did not inform the tattooist of ongoing treatment.
The authors note that the tattooing was uneventful, but the patient presented with impaired tattoo healing. There was no infection, and with use of a proper moisturizer the tattoo eventually healed. The aesthetic result was unsatisfactory. The patient is completing isotretinoin treatment prior to a second tattoo session.
"Our case illustrates that oral isotretinoin could impair wound healing after tattooing," the authors write. "Retrospective surveys on young patients with isotretinoin who got a tattoo, with emphasis on the cumulated and daily dose of at time of tattooing, would help to assess whether there is a real impact or not."
Abstract
Full Text (subscription or payment may be required)