June 30, 2015
Stiolto Respimat Launched for COPD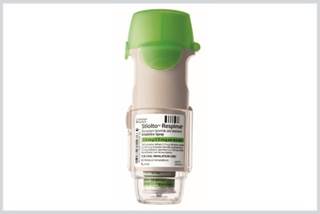 Boehringer Ingelheim announced the launch of Stiolto Respimat (tiotropium bromide and olodaterol) Inhalation Spray for the long-term maintenance treatment of airflow obstruction in patients with chronic obstructive pulmonary disease (COPD), including chronic bronchitis and/or emphysema. Stiolto Respimat received approval from the Food and Drug Administration (FDA) in May 2015.
The Respimat inhaler actively delivers a slow-moving mist that aids the patient independent of inspiratory effort. Stiolto Respimat consists of tiotropium bromide, an anticholinergic, and olodaterol, a long-acting beta2-adrenergic agonist (LABA).
RELATED: New Inhaler Option for COPD Now Approved
Stiolto Respimat is available as a 3.124mcg/2.736mcg (equivalent to 2.5mcg/2.5mcg) strength. A carton contains one cartridge and one inhaler providing 60 metered actuations.
For more information call (800) 542-6257 or visit Stiolto.com.