August 21, 2012
Sklice Lotion Now Available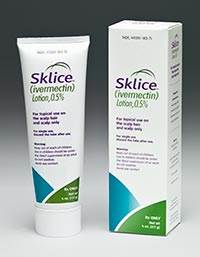 Sanofi Pasteur announced that Sklice (ivermectin) Lotion, 0.5%, is now available for the treatment of head lice in patients >6 months of age.

Sklice Lotion should be used in the context of an overall lice management program, which includes washing (in hot water) or dry-cleaning all recently worn clothing, hats, used bedding and towels, as well as washing personal care items such as combs, brushes and hair clips in hot water. No nit combing is required; however, if desired, a fine-tooth comb may be used to remove dead lice and nits.

Ivermectin, a broad-spectrum antiparasitic agent, was developed from a soil bacterium that produces a family of compounds (avermectins) shown to bind selectively and with high affinity to certain ion channels present in invertebrate nerve and muscle cells but not in mammals. The resulting increased permeability of the cell membrane causes paralysis and death in certain parasites.


Sklice Lotion 0.5% is available from Sanofi Pasteur in a 4oz. (117g) tube.

For more information, call (855) 4-SKLICE or visit www.sklice.com.