January 15, 2009
Savella approved for the management of fibromyalgia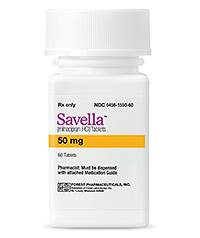 Forest Laboratories and Cypress Bioscience received FDA approval for Savella (milnacipran HCl), a selective serotonin and norepinephrine dual reuptake inhibitor (SNRI), for the management of fibromyalgia. In two Phase III clinical trials involving over 2,000 patients with fibromyalgia, Savella demonstrated statistically significant and clinically meaningful concurrent improvements in pain, patient global assessment, and physical function compared to placebo.
Savella is expected to be available in March 2009.
For more information call (800) 678-1605 or visit www.frx.com.