March 13, 2014
Response: PCMH Models Need Time to Develop
the MPR take:
Implementing a Patient Centered Medical Home (PCMH) approach to care requires significant investments of finances, personnel, and information technology (IT) resources. The timing of structural and workflow changes frequently occurs simultaneously, creating an overwhelming change initiative that can negatively impact the ability to get desired results. Although a three year pilot seems like significant time to accomplish a given task, the scope of work involved with implementing an effective medical home can delay measurable successes.
In a recent JAMA article titled "Association Between Participation in a Multipayer Medical Home Intervention and Changes in Quality, Utilization, and Costs of Care," the Pennsylvania Chronic Care Initiative (PACCI) pilot revealed limited improvements in quality and reductions in utilization over the three year study period. Standing out as a contributing factor to these limitations was the inability to decrease emergency department utilization rates. One of the first aspects of creating a medical home is to provide access to care for patients during and after office hours.1 The pilot indicated that 31% of practices were not providing weekend hours and 29% of practices were not offering evening hours for more than two nights per week. Considering the average practice in the initiative consisted of 4-5 providers, the question arises whether a practice schedule consisting of increased evening and weekend coverage could materially improve results.
Of course, from an outside perspective, it is much easier to make recommendations than to implement change. One of the most challenging aspects of initiating needed changes is having sufficient infrastructure in place to direct the change process. These tasks, including deep dives into the analytics, writing policies and procedures that ensure consistency to approaches, developing evidence based medicine guidelines, and identifying the leadership to guide the process through its transition all need to take place while sustaining a viable patient practice. In the PACCI, it was indicated that practices received disease registries. This is a vital piece of PCMH achievement and yet it may take up to a year or greater to establish a system that contains both capability and data that can be used to make a difference with patient care activities. The PCMH expectations expand beyond the practice walls into hospital and medical community entities; again, creating obstacles that can only be overcome with time.
PCMH models provide a platform for change; both for providers and patients. Culture changes over time. Conceptually, the model works. Realistically, a three year time line to make impactful changes that have measurable successes – difficult, at best!
Katherine Schleider, RN, MHA
Vice President, Clinical Integration and Population Health
Kennedy Health System
Kennedy Health Alliance, a subsidiary of Kennedy Health System, is a network of primary and specialty care physician practices throughout southern New Jersey that provides patients with high-level, efficient healthcare services, close to home. KHA provides care with a Patient-Centered Medical Home approach, and will seek NCQA PCMH level 3 accreditation in 2014.
References:
1. National Committee for Quality Assurance (2011).
Patient-centered medical home (PCMH)
. Retrieved from
https://www.ncqa.org/Portals/0/Programs/Recognition/PCMH_2011_Overview_5.2.pdf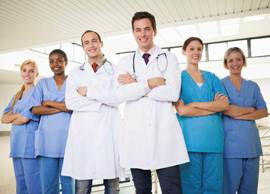 Importance: Interventions to transform primary care practices into medical homes are increasingly common, but their effectiveness in improving quality and containing costs is unclear. Objective: To measure associations between participation in the Southeastern Pennsylvania Chronic Care Initiative, ...
READ FULL ARTICLE
From jama.jamanetwork.com