June 17, 2016
Recombinant tPA May Be Safe For Wake-Up Stroke Patients
This article originally appeared
here.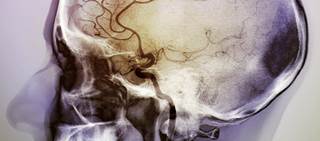 HealthDay News — For patients with wake-up stroke (WUS), treatment with recombinant tissue plasminogen activator (rtPA) seems safe, according to a study published online June 6 in the Annals of Neurology.
Andrew D. Barreto, MD, from the University of Texas Health Science Center at Houston, and colleagues examined the safety of rtPA in a prospective study involving 40 patients with WUS with disabling deficits, selected only on the appearance of non-contrast computed tomography (CT). Patients were treated with standard-dose intravenous rtPA within three hours of awakening. Four of the patients were subsequently determined to be mimics.
Patients received thrombolysis at a mean time of 10.3 ± 2.6 hours from last seen normal and 2.6 ± 0.6 hours from awakening with deficits. The researchers found that there were no cases of symptomatic intracerebral hemorrhage or parenchymal hematomas. Overall, 52.6% of the 38 patients who were followed achieved excellent recovery, with modified Rankin scale scores of 0 or 1.
"Intravenous thrombolysis was safe in this prospective WUS study of patients selected by non-contrast CT," the authors write. "A randomized effectiveness trial appears feasible using a similar, pragmatic design."
Several authors disclosed financial ties to Genentech, which partially funded the study.
Abstract
Full Text (subscription or payment may be required)