June 02, 2016
Patients Have an Overwhelming Preference for Certain Doctor Attire
This article originally appeared
here.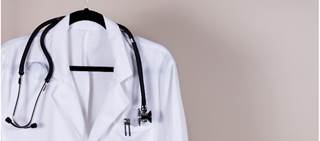 (HealthDay News) — Most patients prefer that physicians wear white coats, according to research published online June 1 in JAMA Dermatology.
In a survey of 255 patients, Robert Kirsner, M.D., Ph.D., of the University of Miami Miller School of Medicine, and colleagues showed participants photos of dermatologists wearing either a suit, a white coat (professional attire), surgical scrubs, or casual clothing, and asked which they favored.
The researchers found that a white coat was the most preferred (73 percent), followed by surgical scrubs (19 percent), a suit (6 percent), and casual clothing (2 percent).
"In this study, most patients preferred professional attire for their dermatologists in most settings," the authors write. "It is possible that patients' perceptions of their physicians' knowledge and skill is influenced by the physicians' appearance, and these perceptions may affect outcomes."
Abstract
Full Text (subscription or payment may be required)