December 03, 2015
New CDC Report on Cholesterol Treatment in the U.S. Concerning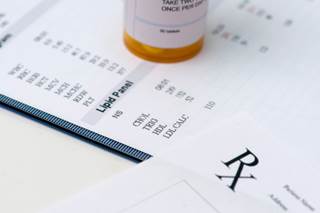 Nearly half of those who are eligible for cholesterol-lowering medications are not taking them, according to a new report by the Centers for Disease Control and Prevention (CDC). This number also includes those who were taking cholesterol-lowering medication, but stopped. The report, published in Morbidity and Mortality Weekly Report, highlights the fact that although the number of Americans with high cholesterol is on the decline, LDL cholesterol remains a major factor in heart disease and strokes.
The study found that 36.7% of US adults (>21 years) were eligible for, or currently taking cholesterol-lowering medication but of this group only 55% were actively taking a cholesterol-lowering medication. The examined data spans over seven years (from 2005–2012) and was taken from National Health and Nutrition Examination Surveys. The medication use data was collected from self-reported medical history interviews or transcribed from medication bottles recorded in prescription medication interviews. While the study included people taking all forms of cholesterol-lowering medication, nearly 90% of those receiving medication were taking a statin drug.
As outlined by the 2013 ACC/AHA guidelines, persons who should initiate or continue cholesterol-lowering medication included four groups:
People with heart disease, a prior heart attack or some types of stroke, or angina.

People with LDL cholesterol levels of 190mg/dL or more.

People ages 40 to 75 with diabetes and LDL cholesterol levels of 70-189 mg/dL.
RELATED: Vaccine to Prevent High Cholesterol in the Works
Apart from taking medications, those with high LDL cholesterol are strongly advised to try living a a healthy lifestyle that includes regular exercise and eating heart healthy foods. The report found that of the 36.7% of US adults eligible for, or currently taking cholesterol-lowering medication, 46.6% said they made lifestyle changes, 37.1% said they made lifestyle modifications and were taking medication, while 35.5% reported doing neither. Unsurprisingly, those who responded saying they had already changed to a heart healthy lifestyle (80%) were the group most likely to be taking cholesterol-lowering medication.
Significant discrepancies arise when the data is broken down by race and gender. Of whites eligible for or already taking medication, 58% were actively taking medication while just 46% of eligible blacks and 47.1% of eligible Mexican-Americans were actively taking medication. There were significant differences in the percentage of men (40.8%) and women (32.9%) on or eligible for treatment and a significant differences in the proportion taking cholesterol-lowering medication (52.9% for men versus 58.6% for women).
"Nearly 800,000 people die in the U.S. each year from cardiovascular diseases – that's one in every three deaths – and high cholesterol continues to be a major risk factor," said Dr. Carla Mercado, a scientist in CDC's Division for Heart Disease and Stroke Prevention. "This study reveals opportunities to reduce existing disparities through targeted patient education and cholesterol management programs."
One such program is the Million Hearts Initiative by the US Department of Health and Human Services. The goal of the initiative is to get 65% of Americans to manage their high levels of LDL cholesterol by 2017.