December 05, 2018
Does Gestational Age at Birth Impact Seizure Risk Following Receipt of Measles Vaccine?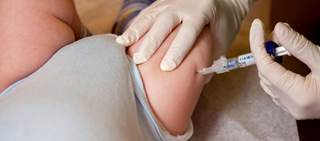 According to the results of a risk-interval analysis, there is no difference in the relative risk of febrile seizures following receipt of a measles-containing vaccine in the second year of life for children born preterm (<37 weeks) vs those born full-term (≥37 weeks).
The study utilized the Vaccine Safety Datalink and included children who received the first dose of a measles-containing vaccine between 12 and 23 months old during the study period of January 1, 2003 to September 20, 2015. "Using risk-interval analysis, we estimated the incidence rate ratio (IRR) for seizures in the 7 through 10 days (risk period) vs 15 through 42 days (control period) following receipt of measles-containing vaccines in children born preterm (<37 weeks gestation age) and those born full-term (≥37 weeks)," the authors explained.
Children with a history of seizure or conditions strongly correlated to seizure before 12 months of age were excluded from the study.
A total of 532,375 children were included. Of these, 45,343 (8.5%) were born pre-term and 487,032 (91.5%) were born full-term. The authors reported, "The IRRs of febrile seizures 7 through 10 days compared with 15 through 42 days after receipt of measles-containing vaccine were 3.9 (95% CI: 2.5–6.0) in preterm children and 3.2 (2.7–3.7) in full-term children; the ratio of IRRs: was 1.2 (0.76–1.9), P=.41." They added that similar IRRs were observed when comparing gestational age groups, type of vaccine received (MMR vs MMRV), and vaccination age (12–15 months vs 16–23 months).
Similar incidence rates of febrile seizures were observed following administration of a measles-containing vaccine in the second year of life for children born preterm and full-term. The study authors concluded, "Our results support the current ACIP [Advisory Committee on Immunization Practices] recommendations to administer the first dose of measles-containing vaccine at age 12 through 15 months for all children, including those born preterm."
Reference:
McClure D L et al. Similar relative risks of seizures following measles containing vaccination in children born preterm compared to full-term without previous seizures or seizure-related disorders. Vaccine. DOI: doi.org/10.1016/j.vaccine.2018.11.038.