March 17, 2017
HBOT May Be Beneficial for Systemic Sclerosis Ulcers
This article originally appeared
here.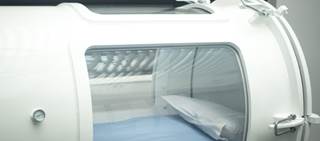 HealthDay News — Adjunctive hyperbaric oxygen therapy (HBOT) may be beneficial for treatment of systemic sclerosis (SSc) ulcers, according to a report published online February 23 in the International Journal of Dermatology.
Bengusu Mirasoglu, MD, from Istanbul University, and colleagues conducted a retrospective analysis of six SSc patients who had undergone treatment for at least a month and a half with various modalities and then underwent HBOT for their ulcers. Three patients had digital ulcers and three had leg ulcers; three of the ulcers were bilateral (two leg ulcers and one digital ulcer).
The researchers found that four patients' ulcers healed completely after HBOT was applied and two had near-complete healing. None of the patients needed amputation.
"Our case series, which has the largest patient population and variability in ulcer size, also showed HBOT-enhanced healing of both digital and leg ulcers of SSc patients," the authors write. "We believe HBOT may be helpful as an adjunctive therapy for these wounds."
Abstract
Full Text (subscription or payment may be required)