September 01, 2015
'Heart Age' Greater Than Actual Age for Most Adults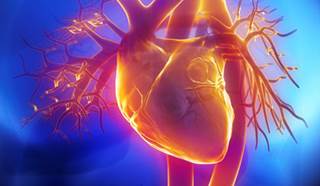 You know a patient's actual age, but do you know their "heart age?" A new report from the Centers for Disease Control and Prevention (CDC) found that one in two men and two in five women have a heart age ≥5 years older than their actual age based on risk factors. This is the first study to provide population-level estimates of heart age and to highlight disparities in heart age nationwide.
The heart age concept was developed to more effectively communicate a person's risk of dying from heart attack or stroke and suggests a way to reduce this risk. Heart age is the calculated age of a person's cardiovascular system based on his or her risk factor profile; the risks include hypertension, cigarette smoking, diabetes status, and body mass index (BMI) as an indicator for obesity. Data from the 2011 and 2013 Behavioral Risk Factor Surveillance System surveys were applied to the sex-specific non–laboratory-based Framingham risk score models, stratifying the results by age and race/ethnic group, educational and income level, and state. These results were translated into age-standardized heart age values and mean excess heart age was calculated.
Findings from the study include:
One in two men have a heart age ≥5 years older than their actual age.
Two in five women have a heart age ≥5 years older than their actual age.
About three in four heart attacks and strokes are due to risk factors that increase heart age.
The average heart age overall for adult men is eight years older than their chronological age vs. five years older for women.
Although heart age exceeds chronological age for all race/ethnic groups, it is highest among African-American men and women (average of 11 years older for both).
Among both U.S. men and women, excess heart age increases with age and decreases with greater education and household income.
Adults in the Southern U.S. typically have higher heart ages. For example, Mississippi, West Virginia, Kentucky, Louisiana, and Alabama have the highest percentage of adults with a heart age ≥5 years over their actual age, while Utah, Colorado, California, Hawaii, and Massachusetts have the lowest percentage.
Clinicians are advised to evaluate individual patient risk factors and suggest the following actions:
Calculate heart age among your patients aged 30–74 and talk with them about the effect of risk factors on their heart health.
Help patients choose a risk factor or two to focus on improving first, such as quitting smoking, getting regular exercise, making healthy eating a part of their lives, and helping them take their medications as prescribed.
Refer patients to community resources such as smoking quitlines and diabetes prevention programs that will support them as they make and keep these lifestyle changes.
Continue to use other calculators recommended by national guidelines that assess cardiovascular risk and help inform treatment decisions.
For more information call (800) 232-4636 or visit CDC.gov.