March 14, 2017
Heart Failure Patients Benefit from Omega-3 Supplementation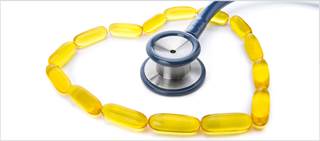 (HealthDay News) — Prescription of omega-3 supplements may benefit some patients with myocardial infarction (MI) and patients with heart failure, according to a new report published online March 13 in Circulation.
The advisory is based on a review of 15 clinical trials that tested the effects of omega-3 supplements on cardiovascular health. Thirteen were conducted after 2002 -- the last time the American Heart Association (AHA) came out with recommendations on omega-3 supplements.
The team found that most studies used approximately 1,000 mg/day doses of omega-3 fatty acids. One 2008 trial tested omega-3 supplements in patients with heart failure. Overall, patients on omega-3 supplements had an 8 percent lower risk of total mortality or hospitalization for cardiovascular disease over four years.
"Scientific findings from the past two decades that focused on the prevention of cardiovascular diseases continue to show that among people who are at risk of dying from heart disease, the potential benefit of omega-3 fish oil supplements is still useful for people who have had a recent heart attack, which is consistent with the 2002 statement," David Siscovick, M.D., M.P.H., chair of the writing committee of the new science advisory, said in an AHA news release. "What is new is that people with heart failure also may benefit from omega-3 fish oil supplements."
Abstract/Full Text (subscription or payment may be required)