August 19, 2015
FDA Approves Addyi for Women with Hypoactive Sexual Desire Disorder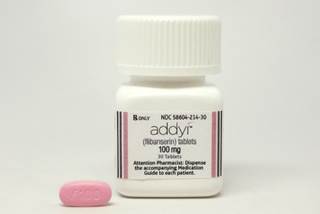 The Food and Drug Administration (FDA) has approved Addyi (flibanserin) for the treatment of premenopausal women with acquired, generalized hypoactive sexual desire disorder (HSDD) as characterized by low sexual desire that causes marked distress or interpersonal difficulty and is not due to a co-existing medical or psychiatric condition, problems within the relationship, or the effects of a medication or other drug substance. Prior to the approval of Addyi, there were no FDA-approved treatments for sexual desire disorders in men or women. Addyi is not indicated for the treatment of HSDD in postmenopausal women or men or for enhancing sexual performance.
Flibanserin is a once-daily, non-hormonal drug that is the first and only post-synaptic 5HT1A receptor agonist and 5HT2A receptor antagonist available for the treatment of premenopausal women with HSDD. Flibanserin may work by restoring prefrontal cortex control over the brain's motivation/rewards structures enabling sexual desire to manifest. Specifically, flibanserin increases dopamine and norepinephrine while transiently decreasing serotonin in the brain's prefrontal cortex, which may be accomplished by reduced glutamate transmission.
The FDA approval was based on Phase 3, randomized, double-blind, placebo-controlled, parallel-group North American studies of premenopausal women with a mean age of 36 years. In these trials, women counted the number of satisfying sexual events, reported sexual desire over the preceding four weeks (scored on a range of 1.2 to 6.0) and reported distress related to low sexual desire (on a range of 0 to 4). On average, treatment with Addyi increased the number of satisfying sexual events by 0.5 to one additional event per month over placebo increased the sexual desire score by 0.3 to 0.4 over placebo, and decreased the distress score related to sexual desire by 0.3 to 0.4 over placebo. Across the three trials, about 10% more Addyi-treated patients than placebo-treated patients reported meaningful improvements in satisfying sexual events, sexual desire or distress. The 100mg bedtime dose of Addyi has been administered to about 3,000 generally healthy premenopausal women with acquired, generalized HSDD in clinical trials, of whom about 1,700 received treatment for at least six months and 850 received treatment for at least one year.
In June, an FDA Advisory Committee voted 18-6 in favor of approving flibanserin for HSDD if certain risk management options beyond labeling were implemented. In this third review, the advisory panel considered all efficacy and safety issues, specifically whether the observed placebo-corrected treatment effects outweigh the risks associated with treatment and the serious risks of hypotension and syncope. Hypotension and syncope can occur with flibanserin alone and the risk is amplified by drug interaction and with concomitant alcohol intake. The most significant drug interactions occur with moderate and strong CYP3A4 inhibitors. While screening for drug interactions can help manage risk, the agency believes that the interaction between flibanserin and alcohol is more challenging to mitigate, particularly because flibanserin requires chronic administration and alcohol use is pervasive in society. In the alcohol interaction study, the combination of ethanol and flibanserin precipitated concerning cases of hypotension and pre-syncope/syncope.
The flibanserin package insert and Risk Evaluation and Mitigation Strategy (REMS) are designed to mitigate the risk of both CYP3A4 inhibition and excessive alcohol consumption. The flibanserin package insert warns that taking flibanserin in the morning, taking doses higher than recommended, or taking flibanserin with moderate to strong CYP3A4 inhibitors or with CNS depressants such as ethanol can result in potentially dangerous incidents of hypotension or syncope. Numerous statements reinforce the need to take flibanserin only at bedtime and to skip any missed bedtime dose. The prescribing information for Addyi lists the following contraindications:
With the use of alcohol
With concomitant moderate or strong CYP3A4 inhibitors
In patients with hepatic impairment
The REMS requires that prescribers be certified with the REMS program by enrolling and completing training. Certified prescribers must counsel patients using a Patient-Provider Agreement Form about the increased risk of severe hypotension and syncope and about the importance of not drinking alcohol during treatment with Addyi. Additionally, pharmacies must be certified with the REMS program by enrolling and completing training. Certified pharmacies must only dispense Addyi to patients with a prescription from a certified prescriber. Additionally, pharmacists must counsel patients prior to dispensing not to drink alcohol during treatment with Addyi.
Addyi is taken once daily. It is dosed at bedtime to help decrease the risk of adverse events occurring due to possible hypotension, syncope and central nervous system depression (such as sleepiness and sedation). Patients should discontinue treatment after eight weeks if they do not report an improvement in sexual desire and associated distress.
For more information visit SproutPharma.com.