May 06, 2016
Eyeglass Device May Benefit Those With Low Vision
This article originally appeared
here.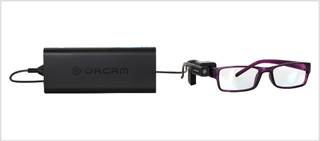 HealthDay News — A device mounted onto eyeglasses enables people considered legally blind to "read" and perform other day-to-day activities, according to a study published online May 5 in JAMA Ophthalmology.
The device, called OrCam, features a miniature camera with optical character-recognition technology. The camera deciphers text and then "reads" it to the user through an earpiece. The device can even be programmed to recognize specific faces and commercial products, according to the report.
Elad Moisseiev, MD, and Mark Mannis, MD, of the University of California Davis Eye Center in Sacramento, conducted a pilot study that included 12 people, average age 62, with severe vision loss caused by a variety of disorders. All were legally blind. The participants were first trained how to use the device, which operates either by tapping it, pressing a trigger button, or pointing it at an item.
After one week using OrCam, all participants could perform nine of 10 tasks, including: reading a message on an electronic device such as a smartphone or tablet, a newspaper article, menu, letter, or page from a book; recognizing paper money denominations; locating a room in a hallway using wall-mounted signs; and recognizing products and distinguishing between similarly shaped and sized cereal boxes. Only one person had technical difficulties with the device. Overall, the participants said the device was simple and easy to use and they would consider using it in their daily lives.
Abstract
Full Text (subscription or payment may be required)