September 15, 2017
Physicians Spend Almost Six Hours a Day on EHR Tasks, Study Says
This article originally appeared
here.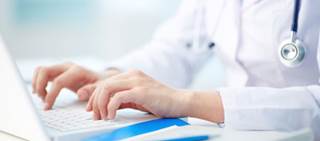 HealthDay News — Physicians spend almost 6 hours per day in the electronic health record (EHR), with 4.5 hours spent during clinic hours and 1.4 hours spent after clinic hours, according to a study published in the September/October issue of the Annals of Family Medicine.
Brian G. Arndt, MD, from the University of Wisconsin in Madison, and colleagues conducted a retrospective study of 142 family medicine physicians in a single system in southern Wisconsin. The authors captured all Epic Systems Corporation EHR interactions over a 3-year period for direct patient care and non-face-to-face activities; these were validated by direct observations.
The researchers found that clinicians spent 355 minutes (5.9 hours) of an 11.4-hour workday in the EHR per weekday for each 1.0 clinical full-time equivalent: 269 and 86 minutes during and after clinic hours, respectively. Documentation, order entry, billing and coding, and system security were clerical and administrative tasks that accounted for 44.2% of the total EHR time. Another 85 minutes (23.7%) was accounted for by inbox management.
"Primary care physicians spend more than 1-half of their workday, nearly 6 hours, interacting with the EHR during and after clinic hours," the authors write. "EHR event logs can identify areas of EHR-related work that could be delegated, thus reducing workload, improving professional satisfaction, and decreasing burnout."