February 09, 2017
E-Cigarette Heating Coils Found to Contain Toxic Metals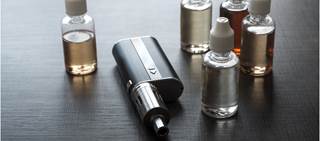 HealthDay News — Electronic cigarette liquids can contain high levels of toxic and potentially carcinogenic metals, according to research published in the January issue of Environmental Research.
Ana Maria Rule, PhD, an assistant scientist in the department of environmental health and engineering at the Johns Hopkins Bloomberg School of Public Health in Baltimore, and colleagues analyzed the liquid of five brands of first-generation e-cigarettes, which resemble traditional cigarettes.
The researchers found liquids in those brands contained the heavy metals cadmium, chromium, lead, manganese, and nickel. In first-generation e-cigarettes, the cartridge of liquid is stored in close contact with the heating coil. When heated, the liquid creates the aerosol, or vapor, that users inhale. The researchers believe this heating coil is the main source of the metals.
"It was striking, the varying degrees to which the metals were present in the liquid," Rule said in a Hopkins news release. "This suggests that the FDA should consider regulating the quality control of e-cigarette devices along with the ingredients found in e-cigarette liquids. Perhaps regulators might want to look into an alternative material for the heating coils."
Full Text (subscription or payment may be required)