January 23, 2015
Disney-Related Measles Outbreak Spreads to Six States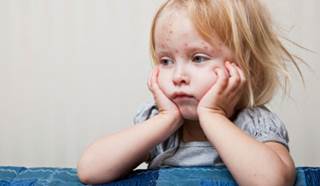 As part of the ongoing measles outbreak linked to Disney theme parks in California, over 50 people across six states were reported to have measles from January 1–16, 2015.
The total now stands at 59 confirmed measles cases since the end of December 2014. Of the total cases, 42 have been linked to an initial exposure at Disneyland or Disney California Adventure Park, which includes five Disney employees. Vaccination status was obtained for 34 of the 59 cases; 29 were unvaccinated, one had received one dose and five had received ≥2 doses of the vaccine.
RELATED: Disney-Related Measles Outbreak Up to 19 Patients
Measles is a highly contagious airborne disease that initially presents with malaise, cough, coryza, conjunctivitis, and a pathognomic enanthema (Koplik spots) followed by a maculopapular rash. Patients are considered contagious from four days before and after the rash appearance.
The Centers for Disease Control and Prevention (CDC) recommends immunization of the MMR vaccine with the first dose at 12–15 months, and the second dose at 4–6 years of age (or at least 28 days after the first dose). Students at post-high school institutions without evidence of measles immunity require two doses of the MMR vaccine. Adults born during or after 1957 without evidence of measles immunity should receive at least one dose of the MMR vaccine.
For people without evidence of measles immunity after being exposed to measles, the MMR vaccine given within 72 hours or immunoglobulin (IG) given within six days of initial exposure may provide some protection against the disease. However, if the MMR vaccine is not given within 72 hours post-exposure, it should still be offered at any time post-exposure to provide immunization from future exposures. Infants as young as six months old may be given the measles vaccine if many cases are occurring among those <12 months old.
IG should be given as post-exposure prophylaxis for people at risk for severe illness and complications from measles (eg, infants <12 months old, pregnant women with evidence of measles immunity, and severely immunocompromised patients). Infants <12 months old should receive intramuscular IG (IGIM); pregnant women and those severely immunocompromised should receive intravenous IG (IGIV). The MMR vaccine can be used in place of IG for infants 6–11 months old if given within 72 hours of exposure.
The CDC is urging healthcare professionals to consider measles when patients present with a febrile rash. Public health officials are contacting those exposed to measles cases to evaluate their vaccination history and enforce preventive strategies. The California Department of Public Health expects to receive more reports of measles cases.
The largest measles outbreak in the United States was in 2014 where 644 cases from 27 states were reported to the CDC's National Center for Immunization and Respiratory Diseases (NCIRD).
Further, California state health officials have advised that those who are not vaccinated against measles should avoid visiting Disneyland or California Adventure.
For more information visit CDC.gov.