December 07, 2018
Minimally Invasive Surgery Works Well for Detached Retina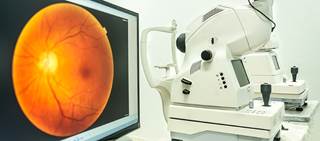 HealthDay News — A minimally invasive treatment for retinal detachment leads to favorable outcomes, according to a study published online November 20 in Ophthalmology.
Roxane J. Hillier, MBChB, from St. Michael's Hospital and the University of Toronto, and colleagues compared outcomes of 176 patients with primary rhegmatogenous retinal detachment (RRD) randomly assigned to either pneumatic retinopexy (PnR) or pars plana vitrectomy (PPV). Patients presented (August 2012 through May 2016) with a single retinal break or group of breaks within one clock hour, above the 8 and 4 o'clock meridians.
The researchers found that following PnR, Early Treatment Diabetic Retinopathy Study (ETDRS) visual acuity exceeded PPV by 4.9 letters at 12 months. The PnR group also had better mean ETDRS visual acuity compared with PPV at three and six months, as well as superior composite National Eye Institute Visual Function Questionnaire-25 scores at three and six months. At 12 months, vertical metamorphopsia scores were superior for the PnR group vs the PPV group. At 12 months, 80.8% of PnR patients and 93.2% of PPV patients achieved primary anatomical success, with 98.7 and 98.6%, respectively, achieving secondary anatomical success.
"These findings cannot be ignored, by physicians and patients alike," Hillier said in a statement. "The next step is to educate surgeons worldwide about the 'art' of this elegant procedure, so that the excellent outcomes achieved in this trial can be replicated worldwide."
Abstract/Full Text (subscription or payment may be required)