March 06, 2017
Novel Approaches to Hearing Loss Needed as Rates Set to Double in U.S.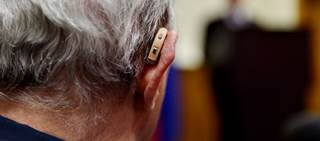 HealthDay News — Among American adults 20 and older, hearing loss is expected to increase from 44 million in 2020 (15% of adults) to 73.5 million by 2060 (23% of adults), according to a research letter published online March 2 in JAMA Otolaryngology-Head & Neck Surgery.
Adele Goman, PhD, a research fellow at the Johns Hopkins University Center on Aging and Health in Baltimore, and her colleagues projected future hearing loss using data from the U.S. National Health and Nutrition Examination Survey.
The increase will be greatest among older adults, according to the researchers. In 2020, 55.4% of all adults with hearing loss will be 70 or older. In 2060, that rate will jump to 67.4%.
"During the next 43 years, the number of people with hearing loss in the United States is projected to almost double and will outpace the overall population growth rate given the distribution shift toward older adults. Furthermore, by 2060, the number of people with a moderate or greater hearing loss will exceed the number of people who have a mild loss today," the authors write. "The increased need for affordable interventions and accessibility to trained hearing specialists will require novel and cost-effective approaches to audiologic health care."
Abstract/Full Text (subscription or payment may be required)