February 14, 2017
Prescriptions for Risky Drug Combinations on the Rise Among Seniors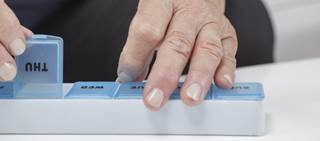 HealthDay News — There has been a sharp rise in the number of American seniors who take 3 or more medications that affect their central nervous system, according to a research letter published online February 13 in JAMA Internal Medicine.
The study looked at seniors' use of antipsychotics, benzodiazepines, nonbenzodiazepine benzodiazepine receptor agonists, tricyclic antidepressants, selective serotonin reuptake inhibitors, and opioids. A review of U.S. Centers for Disease Control and Prevention data showed that the use of these drugs in people over 65 more than doubled from 2004 to 2013.
The researchers estimated that 3.68 million physician visits a year are by seniors taking three or more of these drugs. The largest increase was seen among seniors in rural areas. There, the use of these drugs more than tripled. Nearly half of seniors taking these drug combinations didn't have a formal diagnosis of a mental health condition, insomnia, or pain condition.
"The rise we saw in these data may reflect the increased willingness of seniors to seek help and accept medication for mental health conditions – but it's also concerning because of the risks of combining these medications," lead author Donovan Maust, MD, a geriatric psychiatrist at the University of Michigan's academic medical center in Ann Arbor, said in a university news release. "We hope that the newer prescribing guidelines for older adults encourage providers and patients to reconsider the potential risks and benefits from these combinations."
Full Text (subscription or payment may be required)