March 21, 2018
Antidepressant Tx May Also Improve Asthma Symptoms in Comorbid Patients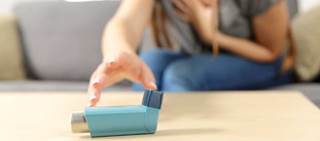 For patients with both severe asthma and depression symptomatology, antidepressant therapy is an effective option and yields a positive symptom response, according to a recent study published in The Journal of Allergy and Clinical Immunology
This double-blinded, placebo-controlled, parallel-group study, involved 139 patients with asthma and major depressive disorder (MDD) were who randomized to receive 10mg of escitalopram daily or placebo. The study was carried out over a 12-week period and was conducted at a single site.
To assess the impact of antidepressant therapy on patients, the Hamilton Rating Scale for Depression (HRSD), Inventory of Depressive Symptomatology-Self Report (IDS-SR), Asthma Control Questionnaire (ACQ), and the use of oral corticosteroids were analyzed. The study authors explained, "Randomization was stratified by oral corticosteroid use (≥3 bursts in past 12 months, yes or no) and baseline depressive symptom severity (HRSD score ≥20) (higher severity, n=42) versus less than 3 bursts, HRSD score <20, or both (lower severity, n=97)."
The authors reported that ACQ scores (P=0.04) and oral corticosteroid use (P=0.04) were significantly reduced in high severity completers (n=21) receiving escitalopram. Additionally, although no significant differences were observed in the combined sample, patients receiving escitalopram tended to have a larger reduction in their IDS-SR score (P=0.07). No significant differences in side effects between treatment groups were observed.
"The findings suggest that patients with more severe asthma and depression symptomatology may have a positive response, in terms of both asthma and depressive symptom reduction, to antidepressant treatment," the authors concluded.
Reference:
Sherwood B.E. et al. A randomized, double-blind, placebo-controlled trial of escitalopram in patients with asthma and major depressive disorder. The Journal of Allergy and Clinical Immunology. 2018.