February 04, 2016
2016 Recommended Immunization Schedule for Adults: What's Changed?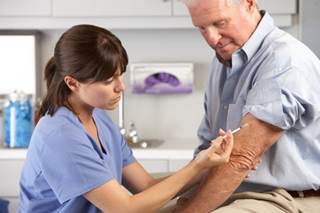 The Advisory Committee on Immunization Practices (ACIP) recently approved the Recommended Immunization Schedule for Adults Aged 19 Years and Older that summarizes recommendations on the use of vaccines routinely recommended for adults aged ≥19 years.
Key changes from the 2015 adult immunization schedule include:
Interval change for 13-valent pneumococcal conjugate vaccine (PCV13) followed by 23-valent pneumococcal polysaccharide vaccine (PPSV23) from "6 to 12 months" to "at least 1 year" for adults aged ≥65 years who do not have immunocompromising conditions, anatomical or functional asplenia, cerebrospinal fluid leaks, or cochlear implants. The interval for adults aged ≥19 years with any of these conditions is at least 8 weeks.
Serogroup B meningococcal (MenB) vaccine series should be administered to certain groups of persons aged ≥10 years who are at increased risk for serogroup B meningococcal disease.
Men B vaccine series may be administered to adolescents and young adults aged 16 through 23 years (preferred age is 16 through 18 years) to provide short-term protection against most strains of serogroup B meningococcal disease.
Nine-valent human papillomavirus (HPV) vaccine (9vHPV) has been added to the schedule and can be used for routine vaccination of females and males against HPV.
Adults are recommended specific vaccinations depending on their age, underlying medical conditions, lifestyle, prior vaccinations, and other factors. Vaccination coverage among U.S. adults, however, remains low despite longstanding vaccine recommendations.

RELATED: 2016 Childhood and Adolescent Immunization Schedule Released

Researchers conducted a study to survey the vaccination coverage among adult populations in the U.S. using data from the National Health Interview Survey (NHIS). Reports were obtained between August 2013–June 2014 for influenza vaccination, and between January–December 2014 for pneumococcal, tetanus, and diphtheria (Td) and tetanus and diphtheria with acellular pertussis (Tdap), hepatitis A, hepatitis B, herpes zoster, and human papillomavirus (HPV) vaccination.

In comparison to the 2013 NHIS, there was an increase in Tdap vaccine coverage in adults aged ≥19 years (2.9% point increase to 20.1%) and herpes zoster vaccine in adults aged ≥60 years (3.6% point increase to 27.9%). Overall, vaccination coverage among adults in 2014 remained similar to 2013 estimates.

Specifically, influenza vaccination coverage among adults was 43.2%; pneumococcal vaccination was 20.3% in high-risk persons (aged 19–64 years) and 61.3% in adults aged ≥65 years; Td vaccination was 62.2%; hepatitis A vaccination was 9.0%; hepatitis B vaccination was 24.5%; and HPV vaccination 40.2% for females and 8.2% for males. Study authors added that for all 7 vaccines studied, a generally higher coverage was seen in whites compared with most other groups.

The findings highlight the need for more adult vaccination coverage. Some increases were seen in Tdap vaccination and herpes zoster vaccinations but coverage in other vaccines and risk groups did not increase. Moreover, racial and ethnic disparities continued to persist for routine adult vaccines.

The following efforts to improve vaccination coverage should be continued:

Assessment of patients' vaccination indications by clinicians and routine recommendation and offer of needed vaccines to adults
Implementation of reminder-recall systems, use of standing-order programs for vaccination
Assessment of practice-level vaccination rates with feedback to staff members
The full adult immunization schedule can be viewed here.
For more information visit CDC.gov.