June 06, 2016
125I Brachytherapy Implantation Significantly Ups Anastomotic Leakage in Rectal CA
This article originally appeared
here.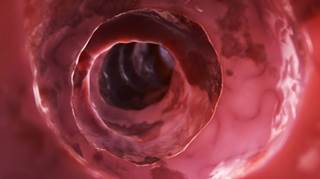 HealthDay News — For patients with rectal carcinoma, intraoperative iodine-125 seed implantation brachytherapy is associated with increased risk of anastomotic leakage (AL) and pelvic autonomic nerve dysfunction, according to a study published in the June issue of the Journal of Gastroenterology and Hepatology.
Ya-Jun Luo, from the Affiliated Hospital of North Sichuan Medical College in Nanchong, China, and colleagues conducted a pilot study involving patients with rectal cancer who received potentially curative resection of rectal carcinoma with 125I brachytherapy (17 patients) or radical resection of rectal carcinoma (34 patients). The authors compared the incidences of AL, fecal incontinence, urinary dysfunction, and sexual dysfunction.
The researchers found that 35.29 and 2.94% of patients in the 125I implant group and non-implant group, respectively, experienced AL (P=0.006). There were significant between-group differences in the incidences of urinary dysfunction (P=0.005) and fecal incontinence (P=0.023). 125I brachytherapy was found to be an independent risk factor for AL and urinary dysfunction in multivariate analysis (odds ratios, 18.702 and 4.340, respectively). The recurrence rates were 5.56 and 9.09% in the 125I implant and non-implant groups, respectively, two years after surgery (P=0.029).
"In general, this study suggests that intraoperative 125I brachytherapy is the preferred treatment for patients who have abdominoperineal resection with locally advanced rectal cancer, given that it is associated with an improved rate of local control and a superior overall compliance rate," the authors write. "125I brachytherapy is prudently used for selective patients who have low anterior resection with high risk of local recurrence, and complications and functional outcomes should be considered when counseling patients due to higher AL rates."
Abstract
Full Text (subscription or payment may be required)