November 14, 2014
What's the Best Way to Pop a Pill?
the MPR take:
One in three patients who report difficulty in swallowing pills experience vomiting, gagging, choking, or having tablets blocked in the throat. This can lead to nonadherence or the need for modification of dosage forms. A study in the Annals of Family Medicine sought to evaluate the influence of two techniques for swallowing tablets and capsules – the pop-bottle method and the lean-forward technique. In the pop-bottle method, a tablet was placed on the tongue, the lips were tightly closed around the opening of a flexible PET (polyethylene terephthalate) bottle filled with water, and the tablet and water were swallowed in a swift suction movement designed to avoid the volitional phase of swallowing. With the lean-forward technique, capsules were swallowed in upright position with the head bent forward. A total of 16 differently shaped placebos (capsules and round, oval, and oblong tablets) in four size groups were rated by the participants on ease of swallowing using an eight point Likert scale. Of the 151 participants, 55.6% reported issues with swallowing solid dosage forms. Both techniques substantially facilitated the swallowing of large oral dosage forms for most participants, regardless of prior swallowing difficulties. Improvement using the pop-bottle method was considered relevant by 88.5% of the participants who reported relief with this method and in 59.7% of participants overall. Nearly all participants reported the improvement relevant with the lean-forward technique Successful transport of tablets and capsules out of the mouth on the first attempt, reduction in unpleasant feeling in the throat, and less lodging of tablets was reported with both methods. About 86% of the participants stated that they would adopt these methods in their daily routines and should be recommended to patients, the authors conclude.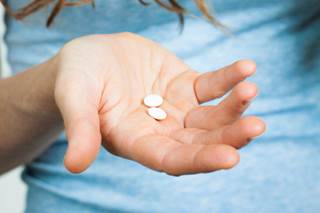 To evaluate whether 2 techniques (the pop-bottle method for tablets and the lean-forward technique for capsules) ease swallowing of tablets and capsules, we conducted a cross-sectional study including 151 adults of the general German population.