October 02, 2014
Toothpaste as Allergy Treatment?
the MPR take:
Can a toothpaste help to brush away allergies? Dr. William Reisacher from Weill Cornell Medical College has developed a toothpaste that could provide an alternative to current allergy treatments in an easy-to-use formula. While immunotherapy has been utilized by clinicians to desensitize patients to airborne allergens like trees, grass, dust, mold, cats, dogs, cockroaches, and feathers, patients are often nonadherent to the therapy because it may be time consuming or inconvenient. Dr. Reisacher found that immune cells most responsible for desensitization were in higher density in the gums and thus had the epiphany to integrate immunotherapy into a toothpaste. The toothpaste, called Allerdent, is currently being tested in adults ≥18 years of age; Dr. Reisacher hopes to eventually seek FDA approval for the product and investigate its efficacy in patients with food allergies as well.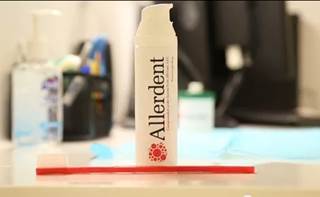 The toothpaste, called Allerdent, which Dr. Reisacher is testing in clinical trials, is designed to seamlessly integrate into patients' everyday routines, boosting their immunity to the very airborne substances that cause allergy sufferers to sneeze, cough, wheeze, drip and tear.