December 18, 2012
Significant, Complex Link ID'd Between Sleepiness, Vitamin D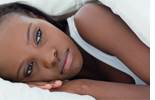 (HealthDay News) – There is a significant correlation between 25-hydroxyvitamin D (25[OH]D) and sleepiness, which is affected by race for individuals with vitamin D deficiency (VitDd; defined as 25(OH)D <20ng/mL), according to research published in the December issue of the Journal of Clinical Sleep Medicine.
David E. McCarty, MD, of the Louisiana State University Health Sciences Center in Shreveport, and colleagues measured serum 25(OH)D levels in 81 consecutive patients from a sleep clinic who complained of sleep problems and nonspecific pain. The authors sought to determine whether excessive daytime sleepiness, determined using the Epworth Sleepiness Scale score (ESSs), was related to vitamin D levels.
The researchers found that, for those patients without VitDd, there was an inverse correlation between ESSs and vitamin D concentration. Six percent of these patients were black vs. 35% in the entire cohort. For black, but not white, patients with VitDd, ESSs correlated directly with 25(OH)D. Black patients had higher mean ESSs with VitDd and tended to have lower 25(OH)D levels.
"In conclusion, this is the first study to demonstrate a significant relationship between sleepiness and vitamin D," the authors write. "Though ESSs and 25(OH)D are related, the relationship is complex; the presence of VitDd changes the nature of this relationship compared to subjects without VitDd; among subjects with VitDd, the relationship between ESSs and 25(OH)D is markedly affected by race."
Abstract
Full Text (subscription or payment may be required)