July 22, 2014
Is Training to Blame for Physician Burnout?
the MPR take:
Is physician burnout inevitable? Preventing it could mean massive changes in medical school curricula, argues a new paper in the journal Burnout Research. Anthony Montgomery of the University of Macedonia in Greece asserts that the technical focus in medical school curricula doesn't adequately prepare future physicians for social interactions, collaboration, or developing leadership skills. As medical students transition to residency, it is assumed that they are capable of interacting with patients, staff, and colleagues – which, Montgomery's colleagues admit – they learned on the job instead of in medical school. Other suggestions for preventing physician burnout include improving doctor-patient relationships for a collaborative care model and emotional coping strategies like mindfulness.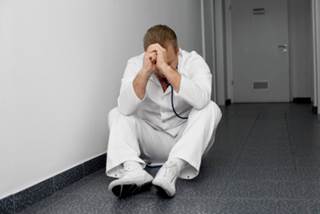 Research shows that up to 40% of U.S. doctors experience emotional, physical, and psychological burnout from their jobs, and the consequences are no different for them than they are for people in other occupations — substance abuse and cutting corners. He says that while doctors interact with people on a daily basis, their training ...
READ FULL ARTICLE
From Time