June 11, 2014
Can Metformin Stop Endometrial Cancer Growth?
the MPR take:
Can an antidiabetic dose of metformin inhibit the growth of cancer cells in patients with endometrial cancer? A new study published in the journal Cancer says yes. In this study, 31 endometrial cancer patients were given metformin (1500–2250mg/day) preoperatively for 4–6 weeks. Treatment with metformin led to an inhibition of endometrial cancer cell growth as evidenced by a decrease in DNA synthesis in sera and a significant reduction in the Ki-67 and topoisomerase IIα labeling indices. This study confirms that further investigation into this treatment may be beneficial.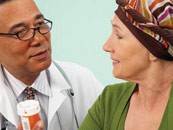 BACKGROUND Metformin, an antidiabetic drug, decreases the incidence of various cancers in diabetic patients. Because endometrial cancer is associated with insulin resistance, the authors investigated whether a diabetes-therapeutic metformin dose inhibits cancer cell growth in patients with endometrial cancer.
READ FULL ARTICLE
From Wiley Online Library