February 18, 2015
Bodybuilders Turning to Breast Milk to Bulk Up?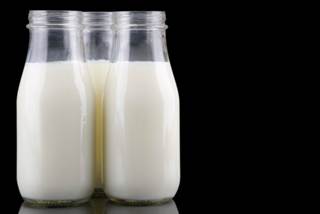 Consuming breast milk may be the latest trend in bodybuilding, but can it actually help increase muscle mass? According to Jacques Mortiz, MD, director of the division of gynecology at Mount Sinai Roosevelt Hospital in New York, research indicates that breast milk has numerous advantages for newborns and infants, but that there is nothing unique about breast milk that could lead to an increase in muscle mass in adults. Breast milk not only contains less protein than cow's milk (2.5g vs. 7.9g, respectively), but it is significantly higher in fat and sugars.
While a gallon of cow's milk costs about $2.44, one ounce of breast milk can set you back up to $10 an ounce if purchased from one of the many Internet websites that sell breast milk. Breast milk from unregulated websites is more likely to be contaminated compared to regulated milk banks; a study found that 89% of breast milk purchased over the Internet arrived above the recommended freezer temperature, which may increase the risk of contamination. A second study discovered that Internet milk samples had high colony counts of Staphylococcus aureus. Completing an extra set of weightlifting reps is cheaper – and safer – than this fad for bulging biceps.
READ FULL ARTICLE
From ABC News