June 19, 2014
Beef in a Heart-Healthy Diet?
the MPR take:
The DASH diet, which emphasizes fruits, vegetables, low-fat dairy products, and increased protein mainly from plant sources, has been shown to reduce hypertension. Can lean beef be added to the DASH diet, with the same blood pressure benefits? Yes, says a new study in the Journal of Human Hypertension. Thirty-six individuals with BP <140/90mmHg were assigned to one of the following diets: traditional DASH diet, a DASH-like diet containing lean beef (at 113g/day), a DASH-like diet containing lean beef (at 153g/day), or a healthy American diet. No significant effects were seen on diastolic blood pressure or endothelial function with any of the diets, but rates of decreasing systolic blood pressure (SBP) were higher in those on the diet containing 153g/day of lean beef (111.4±1.9mmHg) vs. those eating a healthy American diet (115.7±1.9mmHg). No changes in SPB were observed among those eating the DASH diet and DASH plus lean beef at 113g/day.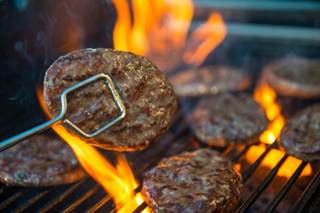 A DASH (dietary approaches to stop hypertension) dietary pattern rich in fruits and vegetables and low-fat dairy products with increased dietary protein provided primarily from plant protein sources decreases blood pressure. The aim of this study was to study the effect of DASH-like diets that ...
READ FULL ARTICLE
From Nature