July 14, 2014
Asthma at Auto Plant- Are Chemicals to Blame?
the MPR take:
Employees at a manufacturing plant in Selma, AL, which produces foam cushions for car seats and headrests, are claiming that exposure to toluene diisocyanate (TDI) has led to workplace-induced asthma, sinus infections, chronic coughs, bronchitis, and shortness of breath. Research has shown that isocyonates like TDI, which is also an ingredient in paints, nail polish, and insulation, are the leading cause of workplace-induced asthma. Exposure to isocyonates via inhalation or touch creates a sensitization in which subsequent trace exposure can lead to health issues like serious asthma attacks that can be disabling or even life-threatening. The Occupational Safety and Health Administration (OSHA) does not require employers to screen employees for illness caused by isocyonates and allows for low-level exposure of isocyonates to the employees. Many of the employees are now working with the United Auto Workers to form a union for protection against the chemical exposure and to reduce the health risks associated with TDI.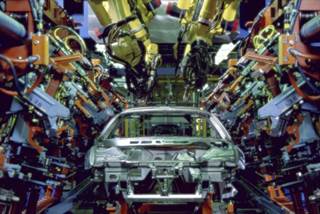 SELMA, Ala.—Denise Bernett was thankful seven years ago when she started a job at the Renosol Seating plant, one of 90 hourly workers making foam cushions for Hyundai car seats and headrests. "Here in Selma, a job is hard to find," said Bernett, 37. "OSHA's workplace exposure limits for many ...
READ FULL ARTICLE
From NBC News