May 15, 2014
Are Hot Sauce Fumes Harmful to Inhale?
the MPR take:
A Sriracha factory in Irwindale, CA has been in the hot seat over complaints from residents regarding fumes emitted during the production of the hot sauce. While inspectors deemed the factory was not in violation of air quality rules, is it safe to inhale the fumes from hot sauce production? Dr. Robert Glatter, an emergency medicine physician at Lenox Hill Hospital in New York City, states that the capsaicinoids or capsaicin chemicals from chilis do not pose long-term health risks but could cause watery eyes or throat irritation. In fact, inhaling capsaicinoids has been shown in research to activate local brain receptors relating to pain to release endorphins. The factory is not currently grinding chilis but production will resume in August for 3 months.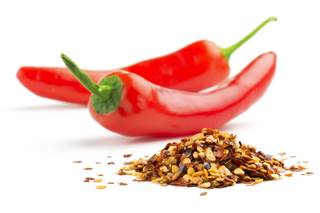 The debacle over fumes from a Sriracha factory in Irwindale, Calif. For three months out of the year (starting in August) the factory grinds its chilies and the smell is causing some people to cough and report irritation while breathing. Last month, TIME reported, factory owner David Tran said the concerns are exaggerated and the South Coast Air Quality Management District has said most of the complaints come from a small number of homes.
READ FULL ARTICLE
From Time