January 07, 2016
Antibody Tx Finds Greater Benefits for Leukemia Patients, Study Finds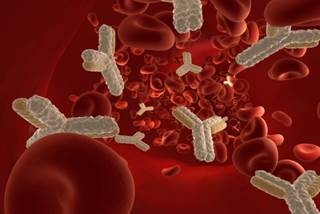 HealthDay News — Antibody therapy before stem cell transplant may benefit patients with acute leukemia, according to research published in the January 7 issue of the New England Journal of Medicine.
The study included 168 leukemia patients treated at 27 different centers. The volunteers were randomly assigned to receive antihuman T-lymphocyte immune globulin (ATG) or not. After an average follow-up of two years, 32.2% of the patients given ATG had chronic graft-versus-host disease. But, 68.7% of patients who weren't given ATG had chronic graft-versus-host disease.
At two years, the survival rate was similar in patients who received ATG or didn't. But, the rate of survival in which they were free from chronic graft-versus-host disease and cancer recurrence was significantly better among patients given the antibody -- 36.6 versus 16.8%, the researchers found.
"Graft-versus-host disease is the most serious complication after stem cell transplantation," lead researcher Francesca Bonifazi, MD, from the Institute of Hematology at Bologna University in Italy, told HealthDay. "Using [ATG] reduces the risk of complications of stem cell transplants without increasing the risk of leukemia recurrence and infections."