August 25, 2013
Why Aren't Doctors Managing Back Pain as Directed?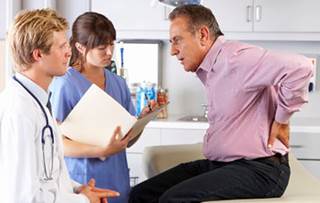 Back pain affects approximately 30% of American adults1,2 and is the fifth most common reason for physician visits, representing more than 10% of visits to primary care physicians (PCPs)3,4,5 Back pain accounts for approximately $86 billion in health care expenditures annually.5
Current well-established clinical guidelines for routine back pain recommend conservative management, including the use of nonsteroidal anti-inflammatory drugs (NSAIDs) or acetaminophen and physical therapy as first-line approaches.6
It is assumed that, under ordinary circumstances, routine back pain will improve within three months,6 so early imaging (computerized tomography [CT] or magnetic resonance imaging [MRI]) is discouraged, except in rare cases (eg, acute neurologic compromise or history of malignant neoplasms).6
RELATED: Pain Management Resource Center
A recent study has found lack of adherence on the part of physicians to these guidelines. Mafi et al7 analyzed 23,918 outpatient visits to physicians with complaints of neck or back pain during the period of January 1, 1999, to December 26, 2010.7
The authors estimated that the 23,918 studied visits represent 440 million visits during the 12-year period, or a mean of 73 million visits per year. They noted that the number of patient visits for back pain increased during the study period, from 3,350 visits in the 1999-to-2000 period (representing 61 million visits, or 3.1% of all visits) to 4,078 visits during the 2009-to-2010 period (representing 87 million visits, or 3.5% of all visits). Mean age of patients also increased from 49 to 53 years old (P <0.001).
NSAID or acetaminophen use per visit decreased from 36.9% in the 1999-to-2000 period to 24.5% in the 2009-to-2010 period (unadjusted P <0.001). Narcotic use, on the other hand, increased from 19.3% to 29.1% per visit (P <0.001).
Physical therapy referrals remained unchanged (approximately 20%), but physician referrals increased from 6.8% to 14.0% (P <0.001). The number of radiographs remained stable (approximately 17%), but the number of CT scans or MRIs increased from 7.2% to 11.3% during the study period (P <0.001).
The authors concluded that "management of back pain has relied increasingly on guideline-discordant care," including use of advanced diagnostic imaging, referrals to other physicians, and increased use of narcotics, with a concomitant decrease in NSAID or acetaminophen use.
A companion editorial8 discusses the barriers to guideline-concordant management of back pain. The author notes that in general, it takes an average of 17 years for guidelines to be implemented in clinical practice. He cites an analysis of barriers to guideline implementation that points to deficiencies in knowledge (eg, lack of familiarity with the guidelines); negative attitudes toward guidelines; and behavioral barriers (eg, patient preferences, contradictory guidelines, and environmental factors, such as lack of time).9