October 09, 2014
For the Elderly, Compliance is Key for Postherpetic Neuralgia Management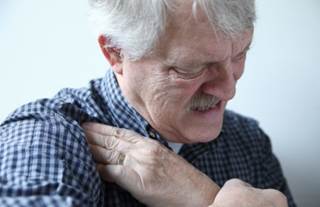 Postherpetic neuralgia (PHN) is a condition associated with debilitating neuropathic pain that arises as a complication of herpes zoster infection (shingles). According to the Centers for Disease Control and Prevention (CDC), the condition is uncommon among people younger than 40, but it can occur in up to one-third of untreated individuals 60 and older. People are more likely to develop PHN as they age. 1
The pain from PHN may be more severe and debilitating among elderly patients. In addition, treating this neuropathic pain condition can be complicated in elderly patients because of polypharmacy, drug dosing schedules, adverse events, drug-drug interactions, and patient comorbidities.
Compliance is also an issue with elderly patients due to forgetfulness and issues associated with drug sensitivity. "Patients often have difficulty taking the medication as directed, which is usually three times a day. As a result, these patients are often unable to obtain full therapeutic benefit of the medication," said Anita Gupta, DO, PharmD, of Drexel University College of Medicine and Hahnemann University Hospital in Philadelphia, PA. Finding options that improve compliance and reduce adverse events would likely improve pain control and outcomes in elderly patients.
Once-Daily Gastroretentive Gabapentin Improves Compliance and Outcomes in Elderly
In a 2013 study published in "Drugs & Aging," Gupta and a colleague evaluated whether once-daily gastroretentive gabapentin to treat PHN worked as well in elderly patients as in patients younger than 75. Results showed that once-daily gastroretentive gabapentin was well tolerated in both groups and provided significant pain relief. Overall adherence was high.3 "Our study found that elderly patients did much better with the once-daily dosing simply because it was easier to take regularly. Our study participants were compliant with taking the once-daily dose of gastroretentive gabapentin, which also resulted in minimizing side effects, better pain control, improved patient satisfaction, and better sleep," Gupta said.
In order to determine whether the efficacy and tolerability of once-daily gastroretentive gabapentin was similar between older and younger patients, the researchers used data from two, Phase 3 placebo-controlled trials and analyzed the data by age subgroups (527 patients <75 years of age; 192 patients ≥75 years age). Within 2 weeks, the majority of patients were titrated to the effective dose of 1800mg once daily; absolute change and percent change in average daily pain (ADP) score from baseline to week 10 was used for efficacy assessment. At week 10, compared to placebo, the percent change from baseline in ADP was significantly greater in patients taking the once-daily gastroretentive gabapentin; this effect was seen in both age subgroups. The mean difference in ADP was similar between both age groups (difference between once-daily gastroretentive gabapentin and placebo: <75yrs: -8.4%; ≥75yrs: -12.3%). Based on this data, the authors concluded that treatment with once-daily gastroretentive gabapentin was as effective in treating PHN pain in elderly patients as it was in younger patients.
In another study published in The Clinical Journal of Pain, Edwin Dunteman, MD, of the A & A Pain Institute of Saint Louis and the Missouri Baptist Medical Center evaluated the safety and efficacy of once-daily gastroretentive gabapentin as an option for treating PHN pain in elderly patients.2
The researchers found that once-daily gabapentin was effective and well tolerated in the elderly. "We found that both the elderly and those 70 and younger had similar improvement in the worse, least, and average pain they experienced from PHN. Both age groups experienced significant increases in general activity, mood, walking ability, sleep, enjoyment of life, work, and relationships. Those 70 or [younger] tended to have slightly better responses," said Dunteman.
RELATED: Postherpetic Neuralgia Treatment and Prevention Strategies