May 04, 2017
Clinicians Discuss the Pros and Cons of Medical Scribes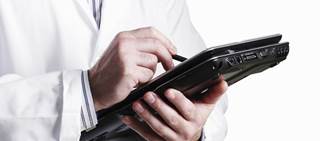 Medical scribes are "personnel specifically hired to chart patient–clinician encounters in real time, from the beginning of the encounter to its end."1 According to the Joint Commission, "A scribe is an unlicensed person hired to enter information into the electronic medical record (EMR) or chart at the direction of a physician or practitioner (Licensed Independent Practitioner, Advanced Practice Registered Nurse or Physician Assistant)."2 The Joint Commission specifies that the scribe does not and may not act independently but can document the previously determined physician's or practitioner's dictation and/or activities."2 Additional roles played by scribes are "assisting the practitioners listed above in navigating the EMR and locating information such as test results and lab results."2
The use of scribes has garnered a generally positive research base for being effective in improving clinician satisfaction, productivity, time-related efficiency, revenue, and physician-patient interactions.1,3,4 Nevertheless, there are concerns regarding a potentially negative impact of scribes on the physician-patient relationship.
To gain further insight into the differing perspectives on the use of medical scribes, Monthly Prescribing Reference interviewed two experts: Michael Murphy, MD, co-founder and Chief Executive Officer of ScribeAmerica, LLC, who spoke in favor of the use of medical scribes, and Ami Schattner, MD, Professor of Internal Medicine, Hadassah Medical School, Jerusalem, Israel, who raised some cautionary notes.
Dr. Michael Murphy
When was ScribeAmerica founded and how has it evolved?
Dr. Murphy: I co-founded ScribeAmerica in 2004. At that time, lower volume hospitals typically had paper charts, while many higher volume hospitals had some type of electronic records. Both settings often used scribes and when there were scribes, the physicians were happier, regardless of whether they were using paper or electronic means of documentation.
The company initially had a slow start, but it has grown tremendously since then. What has enabled us to grow is not only the role of EHRs in the mandate set by President Obama in 2009, but also the increasingly complicated EHRs and the enormous amount of regulatory burden that has been instituted over the last decade in meaningful use, PQRS, core measures, values-based reporting, and other requirements.