April 22, 2013
Do Graphic Ads Really Get People to Quit Smoking?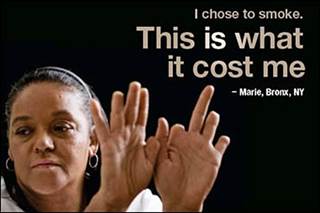 Smoking is one of the most serious public health problems in the United States. According to the Centers for Disease Control and Prevention (CDC), an estimated 46.6 million, or 20.6%, of American adults are smokers.1 Cigarette smoking is responsible for one-fifth of deaths in the United States annually.2 Based on current cigarette smoking patterns, an estimated 25 million Americans alive today will die prematurely from smoking-related illnesses, including 5 million people younger than age 18.2
MORE: WATCH THE GRAPHIC ANTI-SMOKING VIDEOS
U.S. governmental agencies, public health officials, and scientific researchers are attempting to increase their efforts to tackle this urgent public health problem. In the research community, novel approaches are being investigated, such as a nicotine vaccine that would reduce the entry of nicotine into the brain, thereby deterring its addictive potential and contributing to reduction in smoking.3
POLL: BEST WAY TO QUIT SMOKING? [END OF PAGE 2]
In February 2013, the U.S. Food and Drug Administration (FDA) modified the "warnings and limitations specified in the directions for use on the labels of nicotine replacement products" because these warnings "are no longer necessary to make sure [the products] are used safely and effectively to quit smoking."4 The rationale for the recommended labeling changes is to "allow more people to use these products effectively for smoking cessation [so] that tobacco dependence will decline in this country."4
The Centers for Disease Control (CDC) Anti-Smoking Campaign
In general, mass media campaigns have been found effective in smoking cessation.5,6,7,8,9,10 In March 2013, the CDC launched the second phase of a national education advertisement campaign called "Tips from Former Smokers."11 Told by the actual patients, not by actors, the ads unstintingly feature the ravages of smoking-related health conditions (eg, chronic obstructive pulmonary disease, severe adult asthma, and complications from diabetes—blindness, kidney failure, heart disease, and amputation) and candidly describe the losses from smoking and the gains from quitting.
Ads Deemed Controversial
The 2012 campaign had "immediate and strong impact," according to the CDC. "Compared with the same 12-week period in 2011, overall call volume to 1-800-QUIT-NOW more than doubled during the Tips campaign, and visits to the campaign website for quit help increased by more than five times."11
However, it is unclear whether the graphic and alarming images and stories depicted by the CDC ads are effective or counterproductive. While the CDC boasts a high success rate in responses to the ads, opponents call these types of ads "alarming and demeaning,"12 or "atrocious, offensive, and irresponsible,"13 implying that less alarming ads may have the same, if not better, outcome.
MORE: SEE CDC'S GRAPHIC ANTI-SMOKING AD IMAGES
Speaking to this point, Farrelly et al studied the impact of "emotional and/or graphic antismoking TV advertisement on quit attempts."14 The researchers analyzed data on 8,780 smokers over a seven-year period and found that exposure to all antismoking advertisements were positively associated with increased odds of making a quit attempt.14 But "strong negative emotions or graphic images were more effective in motivating quit attempts by adult smokers than other comparison advertisements."14
These findings were consistent across all participants, regardless of desire to quit, socioeconomic status, or educational background. The researchers concluded that "state and federal public health agencies implementing antismoking campaigns should air hard-hitting campaigns, despite criticisms that they go too far."14 It appears that the graphic ads are more memorable and therefore have a more powerful and long-lasting effect than other ads. 14,15