November 16, 2018
Does Prearrival Epinephrine Adversely Affect Pediatric Anaphylaxis Patients?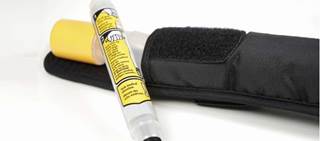 This article is part of MPR's coverage of the ACAAI 2018 meeting, taking place in Seattle, Washington. Our staff will report on medical research related to allergy, asthma, and more conducted by experts in the field. Check back regularly for more news from ACCAI 2018.
SEATTLE — Pediatric patients receiving epinephrine before arriving at urgent care or an emergency department did not present with epinephrine-related symptoms, in spite of many of these patients receiving higher than recommended doses for their weight, according to research presented at the Annual Scientific Meeting of the American College of Allergy, Asthma, and Immunology, held on November 15th through the 19th in Seattle, Washington.
Prehospital epinephrine often exceeds the recommended dose of 0.01mg/kg for pediatric patients weighing <15kg. The current retrospective cohort study described the presentation and dosing of 190 pediatric patients weighing <15kg who were treated for anaphylaxis at the urgent care or emergency department of a children's hospital between July 2015 and December 2017. Patient median age was 1.72 years.
A total of 87 (46%) of the 190 eligible patients were given prearrival epinephrine (PAE), with a mean initial dose of 0.014 mg/kg (range 0.008-0.103mg/kg). Of these patients, 17.4% were given a dose that was ≥0.015mg/kg, and 46.7% of those patients required multiple doses of epinephrine.
Patients given PAE received more epinephrine overall compared with those who did not receive PAE (mean, 0.019mg/kg [range 0.008-0.114] vs mean, 0.01mg/kg [range 0.072-0.033]). Vomiting after being given the initial epinephrine dose was linked to PAE (P<.05), as was a 60-minute shorter average length-of-stay in urgent care or emergency department (P<.05). At the time of their initial presentation at the treatment center, there were no differences in epinephrine-related symptoms such as pallor, tremor, or delayed capillary refill between patients who received PAE and those who did not.
Study investigators concluded that "[p]atients who received PAE do not present to [emergency department] or [urgent care] with epinephrine-related symptoms despite many receiving doses exceeding recommendations. Patients weighing <15kg appear to tolerate intramuscular-epinephrine doses higher than 0.01 mg/kg, which supports the use of 0.15 mg epinephrine auto-injectors in this population when lower-dose auto-injectors are unavailable."
Reference
Jensen J, Ryu J, Clifton H, Brown J. Impact of pre-arrival epinephrine in emergency department or urgent care pediatric anaphylaxis in patients weighing <15 kg. Presented at: the Annual Scientific Meeting of the American College of Allergy, Asthma, and Immunology; November 15-19, 2018; Seattle, WA. Abstract P010.