September 11, 2016
When Should Naloxone Prescriptions be Written?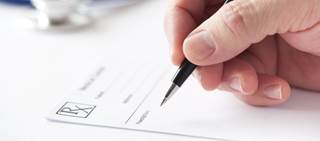 LAS VEGAS—Naloxone fills an important safety need to mitigate accidental opioid overdose, according to a presentation at PAINWeek 2016.1
Jeffrey Fudin, PharmD, who is with the Academy of Integrative Pain Management and serves as the director of the Pain Residency program at the Stratton VA Medical Center, discussed strategies for writing prescriptions for naloxone for certain patients who are prescribed opioids. Data from the US Centers for Disease Control and Prevention note that opioids were involved in 28,647 deaths in 2014,2 and Dr Fudin noted that research has shown that having naloxone in a person's home can actually save lives.3
Dr Fudin explained that it is important to consider the environment surrounding the patient when deciding whether or not to write a prescription for naloxone, noting that deaths have been reported in household members of people who have been prescribed opioids, as well. "Remember it's not just about the patient; it's also about the people around that patient," he said.
Previously developed using US Veterans Health Administration data and designed as a way to detect serious opioid-induced respiratory depression or overdose, the Risk Index for Overdose or Serious Opioid-Induced Respiratory Depression (RIOSORD) is a validated questionnaire that can help clinicians quantify a patient's risk of overdose, Dr Fudin explained. The tool assigns a point value to various questions about a patient, such as if the patient has visited a healthcare facility in recent months or has a history of opioid abuse disorder.
"When dispensing naloxone, clinicians should warn patients or caregivers of the signs and symptoms of opioid toxicity and remind loved ones that all caregivers need to know the location of naloxone in case of an emergency," Dr Fudin said.
Signs of opiod-induced overdose can include respiratory depression, mental confusion, shallow breathing, unusual sleepiness despite loud verbal stimulus, and a slowed heartbeat, Dr Fudin said.
In discussions with the patient about the prescription for naloxone, Dr Fudin noted that it is helpful to have answers prepared for questions about why the naloxone may be necessary, how it will be paid for, and where the naloxone should be stored in the home.
References
1. Fudin J. Risk tools to qualify patients for take-home naloxone. Presented at: PAINWeek 2016. Las Vegas, NV; September 6-10, 2016.
2. Rudd RA, Aleshire N, Zibbell JE, Gladden M. Increases in drug and opioid overdose deaths—United States, 2000-2014. MMWR. 2016;64(50):1378-1382.
3. Walley A, Xuan Z, Hackman HH, et al. Opioid overdose rates and implementation of overdose education and nasal naloxone distribution in Massachusetts: interrupted time series analysis. BMJ. 2013;346:1-12.