March 06, 2017
Treatment Satisfaction for New Human SC vs. IV Immunoglobulin Compared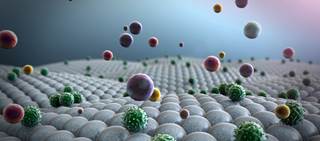 ATLANTA, GA—After 12 months of treatment with a new human 20% subcutaneous immunoglobulin (SCIG 20%), patients with Primary Immunodeficiency Diseases (PIDD) reported improved treatment satisfaction compared to prior intravenous immunoglobulin (IVIG), according to research presented at the 2017 AAAAI Annual Meeting.
"Clinicians may consider improved satisfaction in offering the new 20% SCIG to patients receiving IVIG," noted lead study author Lisa Meckley, PhD, of Shire Pharmaceuticals, in Cambridge, MA.
Two Phase 2/3 prospective clinical studies were conducted (one in North America [n=46] and one in Europe [n=30]) to compare patient satisfaction with SCIG 20% and IVIG therapy, using the Life Quality Index (LQI) instrument after patients completed IVIG and again after SCIG 20% treatment. In the North American study, patients received 3 months of IVIG prior to receiving 12 months of treatment with SCIG 20%. For patients in the European study, the 12-month treatment period with SCIG 20% followed a 3-month treatment period using either IVIG or SCIG 20%.
"Patients reported significant improvements from the IVIG period to the SCIG 20% period in the Treatment Interference LQI domain in both the North American study (33.5 vs. 36.5; P=0.049) and the European study (34.5 vs. 39.0; P=0.016)," Dr. Meckley and coauthors reported. "Patients also reported improvement relative to the IVIG therapy period after treatment with SCIG 20% in the Therapy Setting LQI domain, improving from 17.5 to 20.0 (P<0.01) in the North American study and from 18.0 to 21.0 (P=0.002) in the European study."