March 04, 2017
Penicillin Route of Administration May Impact Anaphylaxis Risk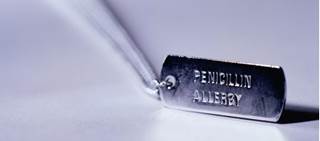 ATLANTA, GA—Oral penicillins are associated with less frequent anaphylaxis reactions than parenterally-administered penicillins, but rates are low for both routes, according to research presented at the 2017 AAAAI Annual Meeting
"Penicillin-class antibiotic-associated anaphylaxis was more common with parenteral compared to oral exposures," concluded Eric M. Macy, MD, FAAAAI, and Lie H. Chen, PhD, of Kaiser Permanante in San Diego, CA.
In order to help address a scant population-based evidence base regarding the incidence of oral and parenteral penicillin-class antibiotic-associated anaphylactic reactions, the pair reviewed administrative medical records for the Kaiser Permanente Southern California health plan for 1,840,830 patients who received oral penicillin-class antibiotics and 172,840 patients who received parenteral penicillin-class antibiotics between 2009 and 2015.
"The top oral penicillins used were amoxicillin (74.9%), amoxicillin-clavulanate (14.5%), and penicillin (9%)," they reported. Top parenteral penicillin-class drugs were piperacillin-tazobactam (43.7%), penicillin (28.5%), and ampicillin (18.3%).
Within 30 days of administration, 27,196 (0.67%) of patients experienced a new penicillin allergic response. The study authors also reported that 17 cases (0.00044%, 95% CI: 0.00023%, 0.00065%) of anaphylaxis occurred due to exposure to oral penicillin. Of these 17 cases, 12 were caused by an exposure to amoxicillin, 4 were caused by an exposure to amoxicillin-clavulanate, and 1 was caused by an exposure to dicloxacillin. Results of the study also found 3 cases (0.00126%, 95% CI: 0%, 0.0027%) of anaphylaxis were caused by exposure to parenteral penicillin exposure, 2 of which were from piperacillin-tazobactam exposure, and 1 from ampicillin-sulbactam exposure (P<0.001).
Results of this review found that although the rates of anaphylaxis are low for both routes of administration, oral penicillins are less likely to cause anaphylaxis reactions than parenterally-administered penicillins.