PRODUCT MONOGRAPH
MPR
contains key prescribing data on over 4,000 drug formulations abbreviated for ease of use and organized by therapeutic category, allowing you to easily and quickly make drug decisions for your patients. No one else organizes drug data for you like
MPR
.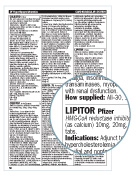 CLINICAL CHARTS
MPR
includes over 100 clinical charts to help you compare drug therapies at the point of prescribing.
MPR
's charts are truly unique when it comes to providing large amounts of complex drug data in a clear and concise manner.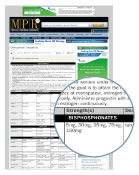 NEWS
NEW PRODUCTS
MPR includes clinical and pharmacological information about the most recent product launches. MPR has the latest when it comes to newly approved products and important changes to labeling. No one is more current.

NEWSLINE / DRUG NEWS
Recent developments in drug therapy, covering a wide array of important topics: latest clinical trial data; important safety issues and other significant clinical findings.