December 22, 2015
Who Should Be Prescribed Statins? USPSTF Weighs In with New Recommendations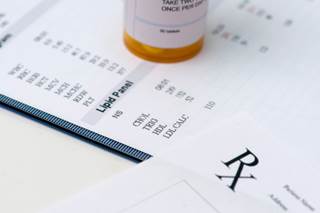 The U.S. Preventive Services Task Force (USPSTF) issued a draft recommendation statement regarding the use of statins in the primary prevention of cardiovascular disease (CVD) in adults. This recommendation replaces the one from 2008, based on accumulating evidence on the role of statins in primary CVD prevention across different populations.
The new draft statement recommends that adult patients aged 40–75 years who have one or more CVD risk factors (ie, dyslipidemia, diabetes, hypertension, smoking) and a calculated 10-year CVD event risk of ≥10% should receive a low- to moderate-dose statin for the prevention of CVD events. This is a Grade B recommendation, meaning there is high certainty that the net benefit is moderate or there is moderate certainty that the net benefit is moderate to substantial.
For adult patients 40–75 years with one or more CVD risk factors and a calculated 10-year CVD event risk of 7.5% to 10%, clinicians may choose to offer a low- to moderate-dose statin to certain adults without a history of CVD. The likelihood of benefit however is smaller due to lower probability of disease and uncertainty in individual risk prediction. While regular statin use may reduce CVD risk in patients where predicted 10-year risk is less than 10%, the number of individuals who will avert a CVD event is smaller than for those with >10% risk. Patients at lower risk who value the potential benefits over the potential harms and who do not mind taking a daily medication may wish to initiate statin therapy for CVD risk reduction. This is a Grade C recommendation, meaning that providing treatment is based on individual judgement and patient preferences. There is at least moderate certainty that the benefit is small.
For adults 76 years of age and older without a history of heart attack or stroke, the USPSTF concludes that not enough evidence is available to assess the balance of benefits and harms of statin use for the prevention of CVD events. This is a Grade I recommendation, meaning evidence is very limited. Some evidence suggests a link between lower cholesterol levels and an increased risk of mortality with advanced age. While little evidence of benefit exists, this does not seem to curtail prescribing of these medication to elderly patients. A study published in JAMA Internal Medicine notes that the use of statins for primary prevention in patients older than 79 years of age without vascular disease increased from 1999–2012 despite little evidence supporting their use in this patient population.
The USPSTF recommendations while closely aligned with the American College of Cardiology (ACC)/American Heart Association (AHA) guidelines, may leave some prescribers and patients confused. The ACC/AHA guidelines state that all patients ages 40–75 with LDL cholesterol levels of 70–189mg/dL with an estimated 10-year risk of heart disease of 7.5% or more should be initiated on cholesterol-lowering medication, however, the USPSTF recommendation leans more towards individualized decision-making for those patients that fall between 7.5% and 10%.
In an interview conducted by MPR in 2013, shortly after the ACC/AHA guidelines were published, Dr. Robert Eckel, co-author of the Guideline on the Treatment of Blood Cholesterol to Reduce Atherosclerotic Cardiovascular Risk in Adults, said " A guideline is not a mandate. Practitioners must use their clinical judgment on a case-by-case basis. And they must remember that lifestyle changes are critical in primary prevention. I recognize that the concept of treating the whole patient rather than the patient's numbers is a major paradigm shift that will be adopted slowly, but it will ultimately lead to an important reduction in ASCVD events."
In a separate draft recommendation, the USPSTF looked at whether screening for high cholesterol in children and adolescents 20 years of age and younger would lead to a lower risk of cardiovascular events in adulthood. At this time, there is not enough evidence to determine the benefits and harms of screening in this age group; this is a Grade I recommendation and remains unchanged from the 2007 statement.
"There is currently not enough research to determine whether screening all average-risk children and adolescents without symptoms leads to better cardiovascular health in adulthood. In addition, the potential harms of long-term use of cholesterol-lowering medication by children and adolescents are not yet understood," said Task Force Vice-Chair David C. Grossman, MD, MPH.
The Task Force recognizes that more research needs to be done to assess the harms and benefits of screening for lipid disorders in children and adolescents. In the meantime, maintaining normal weight with a healthy diet and physical activity should be prescribed for this age group.
For more information visit USPSTF.org.