October 04, 2010
Suprep Bowel Prep Kit available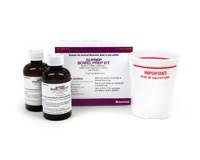 SUPREP Bowel Prep Kit by Braintree Labs

Suprep Bowel Prep Kit (sodium sulfate, potassium sulfate, magnesium sulfate oral solution, from Braintree Laboratories) is now available for bowel cleansing prior to a colonoscopy in adults. Suprep Bowel Prep Kit is a low-volume, osmotic laxative regimen that features the American College of Gastroenterology-recommended split dosing.

For more information call (800) 874-6756 or visit www.braintreelabs.com.